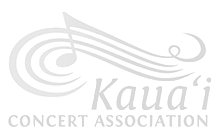 Kauai Concert Association
World Class Music on The Garden Island
WHO WE ARE
Kauai Concert Association was founded in 1974. This 100% volunteer organization has consistently brought world class entertainment at affordable costs to the island's residents and visitors. Kauai Concert Association is Kauai's only consistent presenter of classical music performances. KCA also focuses on supplementing the music education provided at our public and private schools on Kauai.
Read More
THE 5TH NIGHT OF CHAMBER MUSIC WITH ENSEMBLE HENRIETTA
Kauai Concert Association presents the 5th Night of Chamber Music with Ensemble Henrietta on Saturday, Dec.7th at 7pm at the KCC Performing Arts Center. Curated by Kauai's own pianist Monica Chung, this event will be an exciting collaboration of musicians from Kauai, Oahu, New York and Boston, including special guest Iggy Jang, concertmaster of the Hawaii Symphony Orchestra. The evening will conclude with Ensemble Henrietta as a Chamber Orchestra, performing Ernest Bloch Concerto Grosso No.1 for String Orchestra and Piano Obligate.
See All Shows